Everyone dreams of living a secure life with his family in a modern community where he could avail all the state-of-the-art facilities and luxuries. But it is too costly, and an average person cannot afford it. Shadman Enclave Housing Scheme is here to transform your dreams into reality. It brings a golden opportunity for the people who have average affordability. The housing society offers you a wide range of luxuries and facilities you could never imagine in such a low price.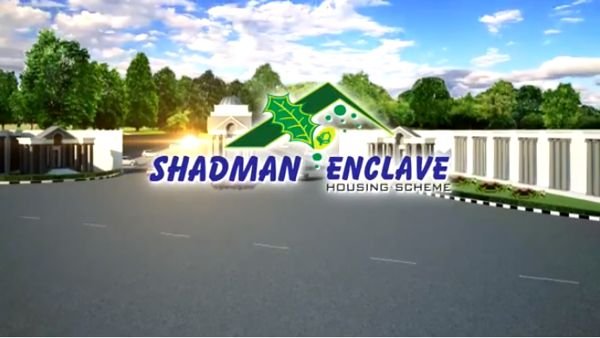 Location of Shadman Enclave Housing Scheme
Shadman Enclave is situated on a Prime location. It is located on main Sharaqpur Road near the Faizpur Interchange. It is only 12 miles away from the Mall Road Lahore that is the center of the city. All main areas of Lahore are connected with Shadman Enclave via roads.
Why Investors Prefer Shadman Enclave?
The investors observe many factors while investing their money in Shadman Enclave. The priority factor is that it is a TMA Shiekhupura approved housing scheme. This housing scheme offers the cheapest rates of the plots. Moreover, it contains all of the modern facilities and luxuries you could never imagine in such a low price. Last but not least, it offers very convenient payment plans for people with average income. That's why it is the first preference of investors.
Let's have a view of salient features of Shadman Enclave Housing Scheme to know in-depth about it.
Basic Utilities
Shadman Enclave contains all of the basic utilities including Power, Water, and Sui gas supply. The underground supply systems for utilities give you a clutter-free environment. So, the atmosphere remains neat and clean. You experience a clean environment without cluttering of wires, damages, and power failure problems.
Furthermore, the power supply is ensured for 24/7 to get you rid of extra expenses for UPS, etc. Even more, the Water Filter Plant of the society supplies you clean and filtered water.
High Standard Education
No worries for the education of your kids. Shadman Enclave contains the best educational institutions for your kids and grown-up children. There are separate schools for boys and girls. The highly skilled and qualified teaching staff is more responsive to give a better future to your children.
High-Standard Security System
The presence of CCTV cameras is an integral part of society. The robust CCTV cameras have been fixed in all corners of society. These CCTV cameras cover the entire housing scheme to ensure your security. Besides, this walled and gated housing society saves you from the criminals. Not enough, the security wing of the society is well-trained and active to secure you from any bolt from the blue. The security guards are present here and there. So, you are safe whether you stay at home or move around in society.
Modern Hospital
Shadman Enclave has a high standard modern hospital where you can experience high-quality medical and surgical facilities. The best and up-to-the-mark medical facilities are provided to the people living here.
Green Parks
Green plantation and lush green parks dotted in the entire society recycles the polluted atmosphere and provides you with a healthy and fresh environment. The beautiful central park and sector parks in the community refresh you and give you the best usage of leisure time. All the parks have jogging and walking tracks, sitting areas surrounded by fresh plants, and play areas for kids.
Recreational Facilities
This housing society does not neglect the human needs for recreational facilities. It contains cinemas, restaurants, sports club, swimming pools, and many other recreational spots.
Broader Commercial Areas
The community comes with panoramic Main Boulevards in 100, 140 and 160 ft. The commercial areas are centrally located so that the residents from all sectors could access the shopping malls, markets, grocery stores, and retailer shops easily.
Panoramic Mosques
There are some sector mosques and a grand Jamia Mosque for the residents. The Jamia mosque comes with a stunning interior to reflect the Medieval Muslim culture along with the modern trends. It is spacious to cover large gatherings of the people on religious occasions like Juma and Eid prayers.
Community Center
Shadman Enclave also includes a big community center to facilitate the residents in various areas.
Shadman Enclave Precise View
So, we can say that Shadman Enclave contains all of the modern luxuries and facilities you could only dream of. However, the plots are low-priced, and you can afford them easily even in your low budget.
Payment Plan for Residential Plots
Recently, Shadman Enclave management has released the latest payment plans in March 2019. According to the most recent payment plans, there are 3.55 and 5 Marla residential plots you can get on easy installments. Initially, you will pay only 15% down payment. You have to pay the remaining amount according to the 3-year or 5-year payment plan. Here is the detail regarding the payment plan for residential plots.
5-Year Payment Plan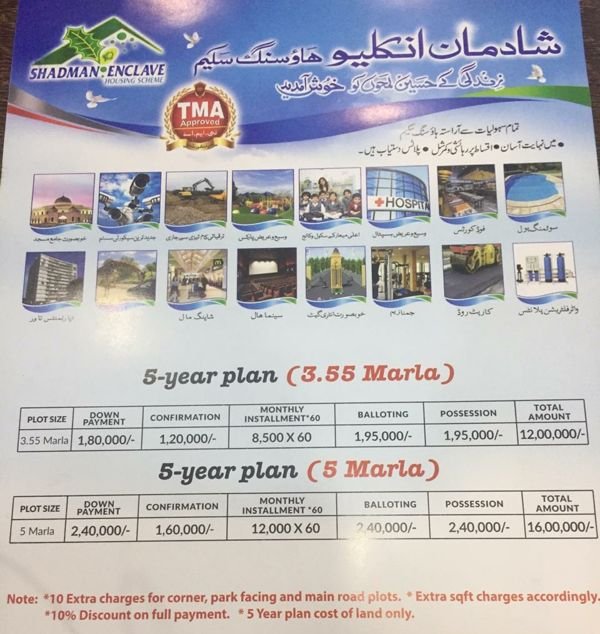 3-Year Payment Plan
Terms and Conditions
If you want to get a corner/park facing plot, or a plot on the main road, you need to pay 10% extra charges for it.
If you make the full payment in cash, you will get 10% discount on it.